An overwhelming consensus among Upper School students is the difficulty in finding quiet spaces to study since the opening of Winslow Hall, the new townhouse building. While the additional space has added many rooms to the school, quiet space in the Upper School remains limited.
The library, a landmark room at Hewitt, is the perfect place to study when the opportunity presents itself; however, there are often meetings and lower school classes that take place there, essentially eliminating it from the free rooms list for most students. Marlene A. '18 says, "It's not possible to find quiet spaces in the school. Even in the library, there is always something going on."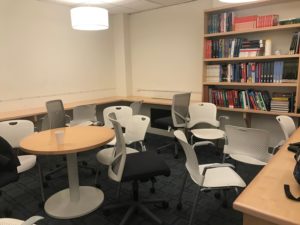 Other students seem to be in agreement. On certain days, it can take up to fifteen minutes to find somewhere to go, even though it might not be quiet. One room that is intended to be used as a quiet place is the Upper School Study. This so called "study space" is nothing of the sort. Carly S. '18's experiences in the study space have consisted of loud voices, bad smells, and overcrowding. While the study space can be quiet on occasion, most of the time Carly says "no one is doing work and there are snacks everywhere. Plus people leave their bags everywhere and sit on the floors and on tables. Some of the time it is so crowded I can't find a place to sit." People who cannot fit in the study room spill over into the library, making that room noisy as well.
Upon asking multiple students their thoughts on how to combat this problem, their answers varied. Sabrina S. '18 explains, "There needs to be a designated area for relaxing and recreational activities." She believes by having a place for students who don't want to study to go, the spaces that are supposed to be quiet will become quiet once again. Perhaps designating a certain room or area in the school as a working space will be an effective solution for the students who wish to do homework and study quietly during frees.