All women's colleges are embedded in our country's history and culture. In some cases, women's colleges were established out of a need for equal educational opportunities, while others were founded simply as an alternative way for a woman to gain an education. Some of the most well known all women's colleges are members of the Seven Sisters, which is a loose association of seven liberal arts colleges in the Northeast that are all women. Over the years some of these colleges have become co-ed, such as Vassar, but many are still single sex, including Mount Holyoke, Smith and Bryn Mawr Colleges.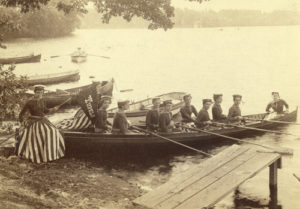 As an all girls institution, many of our students wonder what it is like to attend a co-educational school. College is the time when that question will be answered for many. However, a few Hewitt girls have chosen to attend all-women's colleges after high school. What is the transition like from Hewitt to another all women's school?
Pippa C. from Hewitt's class of 2017 started as a freshman at Wellesley College, an all women's liberal arts college in Wellesley, Massachusetts and one of Seven Sisters. "I choose to attend Wellesley for its stellar academics, incredible alumni network, great sense of community, and its wonderful rowing team! No part of me wanted a Hewitt 2.0 so to say… it just so happened to be single sex," she said. As a member of the 13-year-club at Hewitt, she has never attended a co-ed school. Pippa, like many other women who attend all women's institutions, believes that it can be incredibly beneficial for women's confidence to attend all women's colleges. She explained, "I've been in other co-ed environments and it's definitely unfortunate to see lots of women who are too nervous to speak up for fear of judgement from guys."
On the other hand, some women have felt inexperienced socially after attending all women's institutions. Ms. Emerson, who attended Chapin for her entire school career, said that she had a big adjustment to make when she started her freshman year at Dartmouth. "I had never been in class with boys. I wasn't able to connect as well with the boys at Dartmouth. I wasn't used to boys studying or just being normal people. I think I had some catching up to do," she said. Whereas Pippa said, "going to a singer gender school definitely has not impacted my ability to communicate with men. In fact, for some reason unknown to me, I have become so much more confident. In my opinion, many of my friends and classmates can actually communicate with men better than most people at co-ed schools."
Many Hewitt girls do not seem to want to go to all women's colleges and would prefer a co-educational experience. Despite the great quality and enriching programs at these institutions, many girls think that an all women's college will not prepare them for the workforce after graduation. Coco K. '20 said, "I feel that attending co-ed schools, especially colleges, prepares you for jobs in the future where you will have to work with men." However, the transition from highschool to college is often found to be easier if the college is single gender like Hewitt. Pippa said, "Hewitt made going to Wellesley an easy transition for me, just due to the fact I was used to not having guts in the classroom with me." Hewitt is not the same as an all women's' college according to her and many others. "Despite the fact that Hewitt is an all girls' school and I now attend an all women's college, the two are not comparable at all and in fact have given me very different experiences," Pippa adds.
While Hewitt students may be put off by the idea of attending another single gender school, they should still be considered due to their stellar academics and opportunities for students. Perhaps we could be sending more of our students to all women's colleges. "It's definitely the best choice I could have made," Pippa concludes.