It is common for parents to hope for the best for their kids, but could they be exerting too much of an influence on their child's rise to success?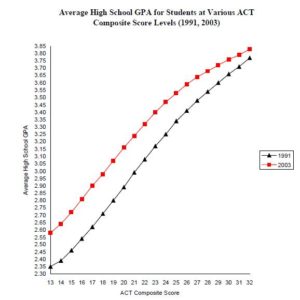 I asked a few teachers if they had experienced any pressure to raise grades. I also asked if parents have strong influences over their kids' grades and whether or not teachers feel pressure from parents to raise the grades. A few teachers answered no to both questions, however, a few of them were aware of other teachers who had admitted to inflating grades due to pressure from a parent.
Grades reflect a student's intellect and work ethic, which colleges use to determine their acceptance. However, grades might not always reflect the true intellect of a student, and may not be a completely fair way to judge a student. According to Business Insider, the average grade at Harvard, one of the most rigorous Universities in America is an A-, but the most commonly given grade is an A. Sociologists began to observe this issue when the correlation between a student's GPA and their SAT/ACT scores did not match up, which indicated the occurrence of grade inflation. The table shows that ACT scores were stable from 1991 to 2003, but the average GPA of high school students increased for each ACT score, helping to prove that grade inflation is a prevalent issue in schools across the country that must be tackled.
Is it possible to stop schools and parents from exercising their power over school boards and teachers to prevent undeserving students of the grades they are getting? An example of a solution is a method Stuyvesant High School uses for student acceptance by only using the SHSAT scores of students as admission criteria rather than by assessing grades. This eliminates the need for school boards to differentiate between specific grading rubrics and systems. This is one effective method many schools and colleges use to eliminate the effects of grade inflation.