Hewitt has seen successful productions this year, including the Upper School production of Peter and the Starcatcher and the Middle School production of Comedy of Errors. With the winter musical, Fiddler on the Roof, fast approaching, one starts to wonder what exactly goes into pulling off a Hewitt production.
First, the actresses must go through a rigorous audition process. This is usually two to three days after school and can also include callbacks. They are asked to spot read for multiple characters and to prepare a song to sing for the musicals. After an anxious waiting period, the cast list is posted and rehearsals commence.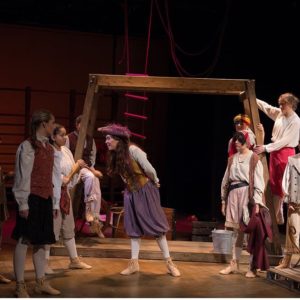 Rehearsals vary from learning dances and blocking to character work and memorization; each rehearsal is a new experience. It is deeply impactful to life as a Hewitt student and can kindle new friendships. As one Fiddler actress says, "When I first started participating in Hewitt theater, I was awkward and didn't have a lot of friends. My time spent in various productions has not just given me friends, but a family, people I can go to when I need them most". Spending so much time together causes deep bonds between cast members, which could never have been formed anywhere else.
There are many exciting moments for cast members during the rehearsal process. Such as costume fitting, perfecting blocking and nailing a queue. As Cali B. '19, a member of the Fiddler cast, says, "It's great and every rehearsal is a new experience". At a usual rehearsal, the cast will go over a couple of scenes together and groups may break up to rehearse individually. Doing a production at Hewitt is more than simply memorizing lines, it is committing to a learning process. Acting is striving to live truly in the moment and incorporating your character's intentions. These skills can be seen eloquently on the stage, leading to an experience both enjoyable for the actresses and the audience.
Theater at Hewitt is a huge commitment, as many members of productions are called four days a week each rehearsal being two hours long. To balance school work and tiring rehearsals takes organization and careful planning. Especially when to comes to tech week when rehearsals can last till 8:00 pm and happen on the weekend. Though, the hard work pays off when it comes to the performance, which showcases the time and effort of all those involved.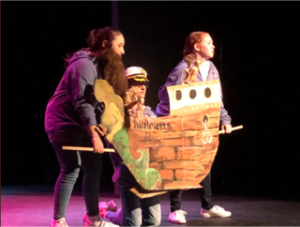 Overall, theater at Hewitt gives students an unparalleled experience that is hard to forget. Friendships are forged and skills are learned. Most importantly, it gives the Hewitt student an opportunity to find something they love and have fun while on stage.