Meet Sofia G. '20, the Student Athlete of the month! Sofia is a member of the Hewitt Varsity Soccer Team and I had the pleasure of interviewing her to gain insight on her experience as an athlete, the lessons she has learned, and the advice she has for aspiring athletes.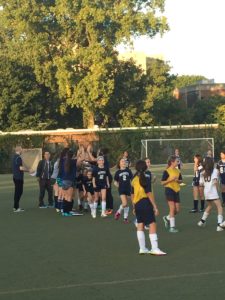 HT: When did you start playing Hewitt sports and what motivated you to join the teams?
SG: I think that the first time I joined a Hewitt sport was for the middle school soccer team. Aside from wanting to get more touches on the ball, I think that what compelled me to join the team was the sense of camaraderie that I felt among the athletic community.
HT: What is the most important lesson you have learned from being on a sports team?
SG: There have been many lessons which I have learned from playing on teams, and I wouldn't say that one is more important than the other. Being a part of a team means to work beside one another towards a common goal, to collaborate and compromise in order to achieve a goal, and to lift each other up when one of us is feeling down. Being on a team means that you are looking out for more than just yourself. Empathy, compassion, determination, dedication, unity, and compromise are all essential concepts in a team. I don't think that one aspect belittles the importance of another, and without incorporating these ideas into the foundation of a team, I think that the team itself can become dysfunctional. I've applied these lessons to my life outside of athletics; whether it's my academic career or personal life, every concept has influenced my work ethic, what I value in others, and how I interact with my community members.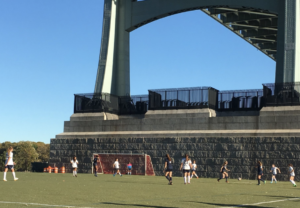 HT: What advice would you give to Hewitt students who may be considering joining a sport that they would be trying for the first time?
SG: I think the only advice that I could give them would be to jump in with two feet, but know that they have an entire community of genuine and compassionate girls that are there to fall back on. I know that this year a group of seventh graders have joined the varsity athletic teams which has been a great experience. Although it was a change for both age groups, everyone has gotten along really well, and having them with us has made a huge impact on our success. I think that they could definitely give better advice than I could give because they were the ones to step out of their comfort zone (similar to someone who is considering joining a sports team for the first time), but I think that they would agree that whatever your background is, when you join a Hewitt athletic team, you are welcomed into a community that will love and be there for you to help you succeed. By joining a team here at Hewitt, you have nothing to lose, and everything to gain. You will be welcomed into a community of amazing girls, and create friendships which will last through your entire experience at Hewitt (and them some). Our teams range in abilities, and where some lack, others thrive, but everyone plays a pivotal role on a team. For example, the fastest runner on a team might be amazing on counter attacks and bringing the ball up the field, but recovering might be more challenging for her. Although her teammates might not be as fast as her, they are able to defend the ball while she catches her breath. Everyone has their strengths and weaknesses; my advice is to just jump in with two and join the team. If you think that you're not good enough, know that you are and that your teammates will have your back no matter what.