After a week of preseason team building activities and sport specific training at Golden Goal training facility at Lake George, Hewitt's high school athletes hit the ground running in fall sports.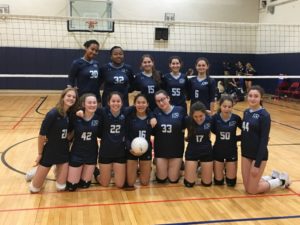 Varsity Volleyball, led by co-captains Lilah H. '19 and Carly S. '18, had a fairly new team this season, after the loss of six seniors from last year. They worked tirelessly, fought hard, and had really gelled as a cohesive team by the end of the season. The AAIS volleyball league was particularly competitive this year, but the girls fought hard and by the end of the season had some close games with hard fought points, great communication and strong team effort. The season came to a close with a hard fought loss against St. Ann's. JV Volleyball, led by freshmen Libby D. and Alexandra F., was a strong team this year and played competitively, losing several games by a narrow margin, and finishing the season with a win against Friends Seminary. The strong team bodes well for next year's Varsity team, as some of these freshmen move up. The 5/6 and 7/8 volleyball teams this season were the strongest Hewitt has had with a number of quality wins. Middle school volleyball has had increasing turnout each year, with a record number of players this season, giving us a strong pipeline for next year's high school teams.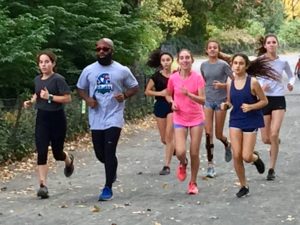 Varsity cross country, led by co-captains Daniela M. '20 and Chloe L. '20, were strong competitors this year in the AAIS league and with their young team they made great strides going into the league championship. 7/8 cross country saw Grace D. lead the pack, winning three of the meets they competed in. This team worked so hard that in their last meet, all of the girls reached a new personal record. The 5/6 had a large turnout with around 30 girls and worked hard to get their competitive edge and spirit ready for next year.
Varsity soccer, led by co-captains Anne M. '21 and Anna H. '19 had intense practices at Randall's Island with Coach Rowlings. They celebrated a victory at the end of their season with a final win of 2-1 against Sacred Heart. Their optimism and excitement to play, no matter what, were unifying and energizing forces that propelled them through the season. 5/6 soccer saw some great play from both their 5th and 6th graders with leadership shining through our 6th graders.
There has definitely been a shift in Hewitt athletics over the past several years. The skill, commitment, and determination of the student athletes in grades five through twelve continue to improve each year, as the girls are pushed to do their personal best by their coaches. The increasing number of students trying out for 5/6 and 7/8 sports promises to support even larger and stronger high school teams for the coming years. The pride and desire to win among the girls is palpable, at a new and energizing level. As many of the fall athletes play on multiple teams, they will carry this fight with them into the next two seasons of sports. All in all, this was a solid start to the 2017-2018 athletic year for Hewitt.