This month's talented athlete is Caitlin Doran of the 10th grade! Caitlin is a star soccer player who practices multiple times a week on Hewitt's Varsity team, and on outside-of-school leagues, showing her commitment and genuine love for the sport. She is known for her strong center defense and commitment to the sport. Although the Hewitt team usually keeps her as a defensive player, her position on a league in Long Island proves that she is just as strong of an offensive player.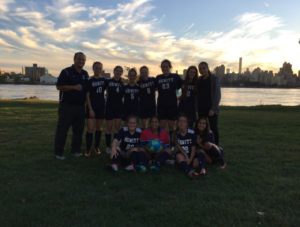 Her love for soccer began twelve years ago, when she was just dawdling around, "It's what I love the most, I've been playing since I was three". Despite Caitlin's undeniable talent, she constantly motivates herself and pushes herself to improve with every dribble, kick, and shot she takes. Not only in the game does she push herself to improve, but outside of the game as well, "I am constantly thinking about how I can improve my game and figure out new ways to do things that I'm not succeeding at. I will literally just sit in class and think about soccer.
"My love for the sport and the process of becoming great are really my main motivations" Caitlin said.
Caitlin is adored by all her teammates and known around Hewitt as the key and necessity to what makes the soccer team challenging to beat. One of her teammates said, "Caitlin is an amazing teammate who has so much spirit and never gives up when the ball is at her feet". There is no doubt that Caitlin is a fantastic player who has a bright future ahead of her. She hopes that she has the opportunity to go to the Naval Academy Women's Team when she goes to college, and her teammates do too. Go Caitlin!