Yesterday, September 12, 2016, both the Varsity Volleyball and Varsity Soccer teams beat Friends Seminary. The teams worked together, kept positive mindsets, and played great games.
The Varsity Volleyball team beat Friends Seminary 5-3. The Hewitt athletes had great passes, dove for every single ball, and were always on their feet. Although some of the sets came extremely close, they put their all into every set. The crowd was at the edge of the bleachers supporting the hawks. Only six girls play at a time, but that didn't stop the rest of the team from cheering their loudest to show support for their teammates. Dr. Kinsey, other faculty members, and parents were watching the extremely exciting game. This was their first win of the season, and they plan on keeping up the hard work! Students and faculty cannot wait for the upcoming season.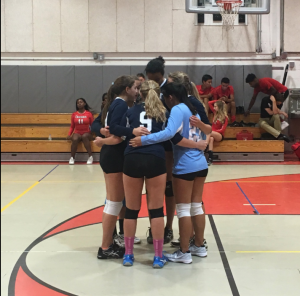 One of the Varsity captains, Lizzie R. '17 said, "I'm so proud of everyone on the team for putting time and dedication into every practice. Clearly, it really paid off. Although the game became slightly stressful by the end of the fifth set, everyone played their best and I could not be more proud."
Another member of the team, Olivia F. '17 said "It's so exciting to start the season on such a high note. We've grown as a team over the years and I'm so excited to see what this season brings!"
The Varsity Soccer team also had an amazing win against Friends Seminary yesterday. The student-athletes gave it their all on the field. The Hawks beat the opposing team by one point. Parents and faculty were cheering and supporting the Hawks. The energy on the field was outstanding, and Coach Morki could not be more pleased with their performance.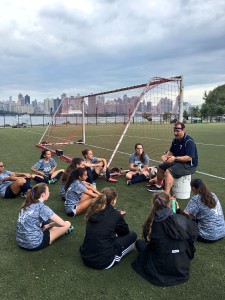 A member of the Varsity Soccer team, Camilla P. '17 said, "I'm so proud of the team. We really pushed through the whole game and worked hard to get out first win of the season!"
Both teams played extremely well yesterday. They started the season on high notes, and all students and faculty are eager for upcoming games! Go Hawks!
First game- Varsity soccer #wegotthis @hewittschool @ElizRenStevens @tara_kinsey pic.twitter.com/kwovHYt04J

— Hewitt Athletics (@Hewitt_Hawks) September 12, 2016