This past week, over 200,000 protesters descended on midtown Manhattan on the one-year anniversary of President Trump's inauguration and the historic women's marches that took place around the world. Millions of women and men recreated the groups of people bearing signs that swept the news cycles last year. However, this was not just a recreation of the record breaking march that took place last January 21, but a reinforcement of last year's message with more strength and vitality. The 2018 march produced just as large of a turn out as last year, with 500,000 marches in Los Angeles and 300,000 marchers in Chicago. It was not just the United States that marched this Saturday. Over 4 million people worldwide marched to locations including, London, Vancouver and New Zealand.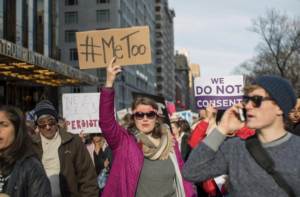 This march seemed to come at just the right time. After months of sexual harassment allegations being brought to light, the march represented women's new found voice. Many women were inspired by Oprah Winfrey's moving speech at this years Golden Globes when she accepted the Cecil B. DeMille award. Winfrey's speech provoked a standing ovation form the audience and a social media outcry of support. "For too long, women have not been heard or believed if they dared to speak their truth to the power of those men. But their time is up" Winfrey said. This year's march was the culmination of the great determination to change the conversation around sexual harassment and assault that was demonstrated this year. After so many sexual harassment and assault claims being revealed this past fall, including the "#me too" and "Times Up" movement, this march was another show of outstanding strength and resilience.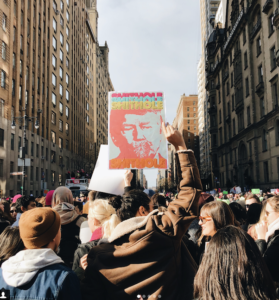 This year's march didn't solely focus on women's rights, sexism and sexual harassment. A strong goal of the march was to encourage Americans to register to vote when election season arrives. Instead of protesting President Trump's offensive statements and the actions he has taken since being elected into office, the march's organizers wanted to inspire Americans to take an active stand in government. This year's march emboldened citizens to take part in elections and make a change in the local, state and federal government one vote at a time.
Colorful and creative signs, carried by marchers, decorated the march route. In a sea of women and men of all ages, the pink knitted hats from last year provided additional color and spirit. Hewitt senior Mia V. attended the march in a furry pink hat so remarkable that both Mia and the hat were featured in Vogue Magazine.