The Hewitt varsity volleyball team wrapped up a long, energetic season full of excitement and spirit this fall. After a season of accomplishments and even some hardships, the work and effort that the entire team put into practices and games were evident. All 13 members, including the two coaches, came with a positive mindset and an enthusiastic attitude to every practice.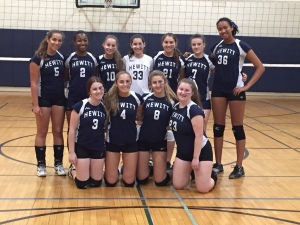 The varsity volleyball team began with two weeks of hard work at IMG during preseason. One important lesson they took away was about having mental toughness. This lesson served them well right from the start of the season with a well-earned victory against Berkeley Carroll at the Hawks' home gym at Lenox Hill Neighborhood House. The team played a tough five sets and walked away with their first win in three years. The team was gratified, especially because of the many faculty members and students who were there to show their support for the Hawks and celebrate the team's success.
Throughout the season, the team learned that it is important to maintain a positive mental attitude during a game because the mental and physical aspects of volleyball go hand in hand. Another lesson that the team took away was to never take the path of least resistance.
"I noticed a huge improvement from where the team started at the beginning of the season compared to where we were at the end of the season," said Taylor Sitomer '18, reflecting on the season. "We learned crucial skills, pushed ourselves, and became closer. Everyone worked extremely hard, and I am so proud of everything we accomplished this year on the volleyball team."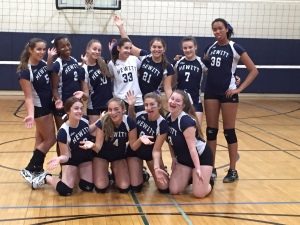 The team learned to keep pushing themselves so that they could live up to their potential, which was visible in games, getting the attention of Head of School Dr. Kinsey who said, "Thank you for showing not only Berkeley Carroll but also the entire Hewitt community that hard work, sacrifice, and dedication can change history."
The varsity volleyball team improved immensely as the season progressed and set the bar high for next year. The girls can't wait for another great season next year!