If only there were an ice bucket challenge to raise awareness for the reality of racism and white-on-black crime in America. On a hot August 9th afternoon in the suburb of Ferguson, Missouri, Michael Brown, an 18-year-old black male, was walking to his grandmother's house with a friend when he was shot 6 times, twice in the head, by police officer Darren Wilson. Michael Brown was unarmed.
Many accounts of what happened that August afternoon do not exactly stand hand-in-hand. What is understood is that Officer Wilson told Brown and his friend to proceed to the sidewalk from the middle of the street where they were walking. Wilson attempted to get out of his cop car, but Brown pushed him back into his car and tried to grab his weapon. Then, one shot was fired from the police car when Brown began to run away. Eventually, Brown turned around and began to move toward Wilson. Officer Wilson reported that he continued to shoot because he feared for his life.
Can a policeman carrying various weapons fear for his life because of an unarmed teenager? Wilson's racial prejudices just may have gotten the best of him. In the wake of the incident, questions of racism and prejudice are continuously being raised: being racist and being prejudiced are two different things, but they are interconnected. Prejudices are individual acts of unkindness towards people, along with assumptions about a person based on race; however, racism is a system that gives privileges to one group and disadvantages another group. Officer Wilson is characterized as racist and not just prejudiced because his badge and police uniform award him institutional power to act on his prejudices.
The stereotype of black men as angry and dangerous conditioned Officer Wilson to assume that young Michael Brown was a serious threat, even when his hands were reportedly in the air as he said, " I don't have a gun. Stop shooting." It's almost as if Officer Wilson was unaffected by those words and had the intention of killing Brown, who is remembered by friends and family as a "gentle giant." If we give Wilson the benefit of the doubt, we still see that he could have shot Brown in the leg or arm, giving him an injury serious enough to incapacitate him and lower his force as a threat, but still harmless enough to keep him alive, instead of carelessly sending bullets through this young man's upper body and head which would ultimately lead to his death.  Worst of all, Michael Brown's body was left in the middle of the street for hours: Wilson, a policeman himself, did not immediately report the death.
From years of watching Law & Order, I know that after someone allegedly commits murder, he or she is put in jail while awaiting trial. So, why is Darren Wilson, whose name it took the Police Department six days to release, receiving paid administrative leave? That's not where all the money is coming from, though. The GoFundMe.com campaign, "Support Officer Wilson," sells T-shirts with "Officer Darren Wilson, I Stand With You – 8.9.14" strung on the front; on the back is, "I've Got Your 6," which is a common saying in law enforcement for "I've Got Your Back." The money is supposed to be dedicated to legal fees during Wilson's prosecution, if he acquires any. So far, $68,897 has been raised with a goal of $200,000, and the "Support Darren Wilson" Facebook page currently boasts 77,718 likes.
This is something that I don't like: the deaths of numerous black men over the years highlight the fatal ends of racism and discriminatory policing. The demise of the black population in America, particularly black men, begins with encounters with the police, sometimes unjustified. I am by no means saying that blacks never commit crimes worthy of punishment, but I'm simply saying that blacks are often not treated as citizens, especially not comparatively. Slavery has been abolished but blacks are still tangled in the shackles and chains of white supremacy.
The mass incarceration system is used for whites to continue to assert power over blacks. It is no coincidence that out of the likeliness of in 1 in 9 men going to prison, 1 in 17 white men may go to prison in their lifetime, but 1 in 3 black men will likely be incarcerated. We arrive at this racial disparity through the "war on drugs," whose violators make up 48% of America's prison population.  Blacks are sent to prison for drug-related offenses at ten times the rate of their white counterparts. About 14 million whites and 2.6 million blacks reported using an illegal drug, but it's not about who uses drugs more. The fact is that the police presence in black and Hispanic neighborhoods is much heavier than in white neighborhoods, so blacks are more likely to get caught. Plus, blacks also tend to serve longer sentences for the same crimes as whites, according to a report done by the U.S. Sentencing Commission.
Michael Brown's death and ongoing, unfair treatment of members of the black community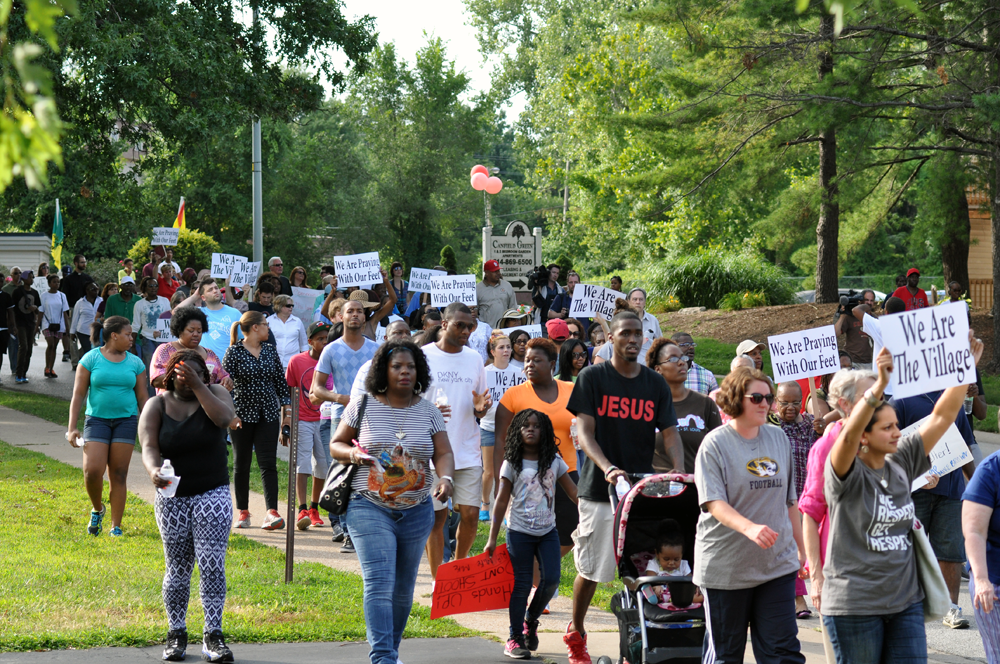 sparked protests in Ferguson, Brown's hometown. The police moved in with military-grade equipment, body armor, rifles, tear gas, and rubber bullets to use on a group of people merely exercising their First Amendment right to assemble. The deployment of police officers contributes to the growing animosity and distrust between the locals and law enforcement.  Even more startling is that police brutality in Ferguson evokes images of The Civil Rights Movement.
Dishearteningly, the media is even getting tired of covering Michael Brown's death. Well-known television host and political commentator for the Fox News Channel, Megyn Kelly, was discussing the beheading of James Foley when a segment of the protests in Ferguson suddenly began playing onscreen over her report. Kelly grew upset immediately, saying, "I realize something's happening in Ferguson, but we're talking about something important here…We're talking about the death of an American who was beheaded." With this, Megyn Kelly almost implied that Michael Brown is not an American whose death is not worthy of consistent coverage on her show. There of course has been extensive media coverage on the death of Michael Brown, but it is still valid and interesting to note how levels of priority can affect the information a viewer is receiving. Attitudes similar to Kelly's only adds to why cases like that of Michael Brown have occurred and will continue to occur.
Watch the video here:
This all must make us question our so-called post-racial society, and the seemingly unfinished fight for blacks.
With the well-known deaths of Trayvon Martin last year and those of Michael Brown and Eric Garner this year, it is difficult to avoid seeing an unfortunate pattern that has emerged and that may continue in years ahead.
R.I.P. Michael Brown (1996-2014).
UPDATES
November 24, 2014: Members of the Grand Jury of the St. Louis County in Missouri spent 25 days hearing testimonies and deliberated for two days to come to a long awaited decision on whether or not to convict Officer Darren Wilson, who fatally shot and killed Michael Brown on August 9th; Tonight, St. Louis county prosecutor Robert P. McCulloch announced that the jury found no probable cause exists to indict Officer Darren Wilson.